RADCOM Session Analysis is a next-generation, session-based, call tracing solution used for detailed network analysis providing an end-to-end, correlated view of subscriber and network sessions for root cause analysis and network troubleshooting. Network analysis can be performed in real-time and on historical data covering each subscriber's interactions with the network.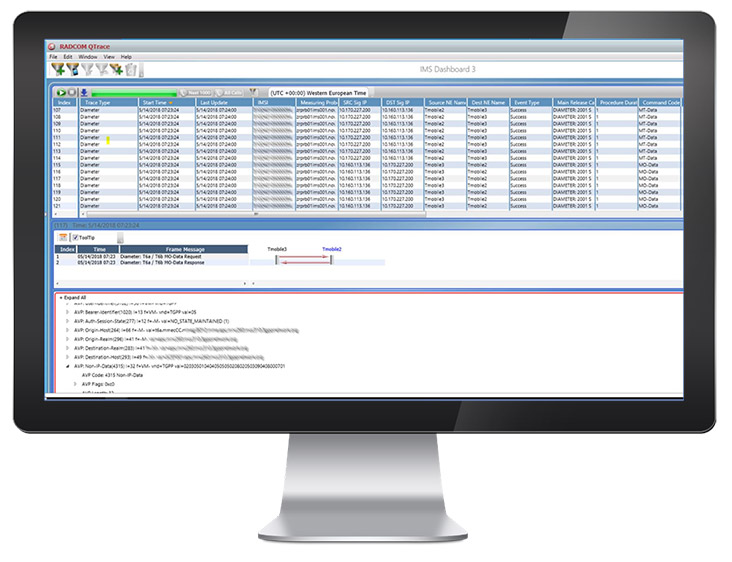 RADCOM Session Analysis enables an operator to:
Trace end-user calls or data sessions to facilitate customer support
Correlate full voice and data sessions in real-time for an end-to-end service view
Reduce time to resolution by using advanced filtering for root-cause analysis
Record voice calls for lawful interception or quality testing
Improve VoLTE/VoWiFi call quality with the end-to-end correlation of IMS sessions as well as interoperability with legacy networks and LTE 3G fallback
Save data as PCAP/HTML/XSIF for detailed analysis of control and user plane traffic
Drill down to the packet level for further root-cause analysis
RADCOM Session Analysis provides a ladder diagram of a subscriber's call/data session or link in the network. Using the visual representation of the session data users can perform a detailed analysis of signaling procedures, including full decoding of messages. For example, engineers can look at the release cause for a specific handset that is having issues, and return results in seconds to rapidly resolve problems that affect multiple subscribers.
Using RADCOM Session Analysis, troubleshooting becomes a simple task, and engineering work becomes more efficient with rapid root cause analysis and resolution. Engineers can see calls or transactions as they happen, view detailed call data, define queries quickly, and follow the changes in an open call in real-time. Session traces can be run immediately or scheduled ahead of time. Color coding highlights any potential abnormal or errored transactions within the session. For a more detailed analysis of transactions, users can view the full decodes of the individual messages by selecting any message on the tracing display.