At the heart of RADCOM's NWDAF solution is RADCOM's next-generation technology for 5G assurance - RADCOM I.C.O.N - which captures the data and events from the 5G core network functions and creates the load KPI's that are provided to the PCF and NSSF. Enhancing the 5G core with the ability to collect and analyze aggregated data per slice and to aid network optimization via interaction with the PCF and NSSF. The PCF takes the input from RADCOM's NWDAF solution to assign more resources or steer traffic policies, which helps operators run their network slices more dynamically. While the NSSF takes the load level information provided by RADCOM's NWDAF for slice selection.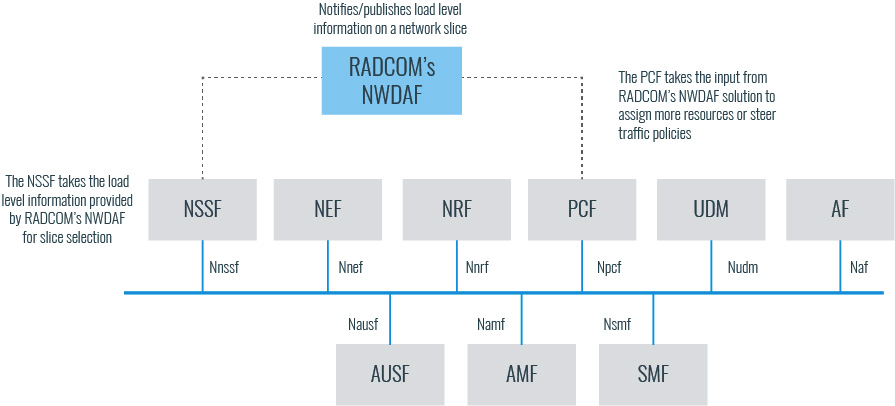 RADCOM NWDAF supported services:
N23 interface: a reference point between PCF (Policy Control Function) and the NWDAF
N34 interface: a reference point between NSSF (Network Slice Selection Function) and the NWDAF
Nnwdaf_EventsSubscription which enables the NF service consumers to subscribe/unsubscribe for network slice specific congestion events notification from the NWDAF
Nnwdaf_AnalyticsInfo which allows the NF to service consumers to request and acquire analytics from the NWDAF
Access Traffic Steering, Switching, and Splitting schemes
To enable access to untrusted non-3GPP access systems (like Wi-Fi) an interworking function, called Non-3GPP Interworking Function (N3IWF) has been introduced in 3GPP TR 23.793. The N3IWF interfaces to the 5G core control-plane functions and user-plane functions via the N2 interface and N3 interfaces. The Access Traffic Steering Support Function (ATSSF) will receive the NWDAF's output for optimizing traffic steering of user sessions through multiple RATs.

The three primary operations supported by the ATSSS are:
Access Traffic Steering: This operation selects an access network for new data flow and transfers the traffic of this data flow over the selected access network.
Access Traffic Switching: This moves all traffic of ongoing data flows from one access network to another in a way that maintains the continuity of the data flow.
Access Traffic Splitting: This procedure splits the traffic of data flow across multiple access networks. When traffic splitting, to a data flow, some traffic of the data flow is transferred via one access, and some other traffic of the same data flow is transferred via another access system.
Highly flexible and customizable
RADCOM's NWDAF is highly agile and customizable, fitting both the operators' needs as their 5G core functions are implemented and as the NWDAF function evolves. RADCOM's NWDAF takes data from multiple sources in the network (such as JSON, AVRO, Protobuf, raw packets, PCAP) and outputs the analytics in numerous formats (such as Kafka, TCP, REST, file, email) and is flexible in exposing its services to other network functions and which functions should benefit from them.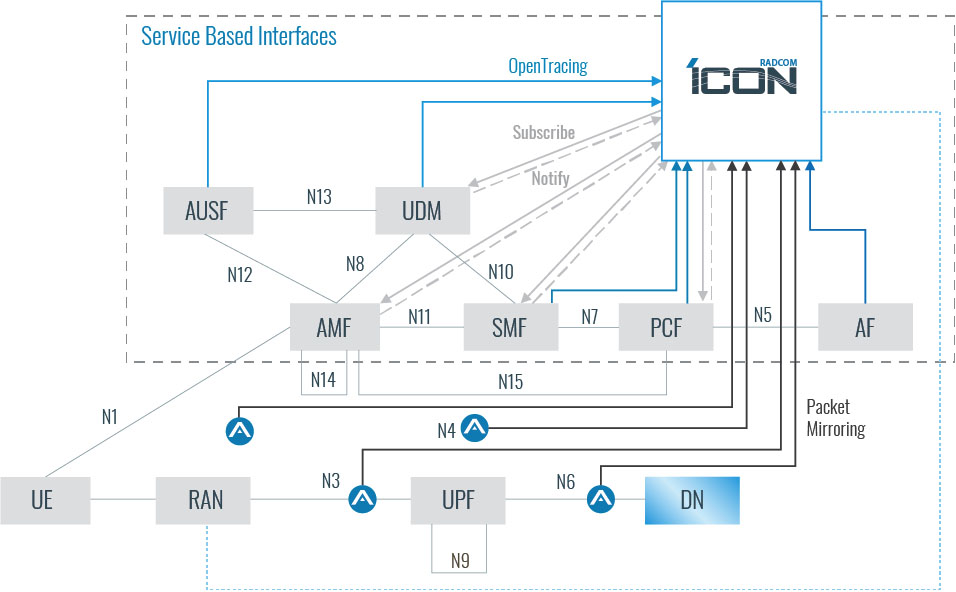 RADCOM's NWDAF provides operators with the ability to capture data from both non-SBI interfaces (N1, N2, N3, N4, N6, N9) and SBI interfaces (N5, N7, N8, N10, N11, N12, N13, N14, N15) so that as 5G services roll out, RADCOM's NWDAF ensures a smooth transition to the new core architecture; delivering a central point for network analytics.
Additional NWDAF use cases
5G edge computing whereby the NWDAF can be used to influence SMF routing decisions
Determining areas with fluctuating network conditions
Management of Massive IoT (MIoT) infrastructure by utilizing both the NWDAF and NSSF
Prevention of security attacks/anti-fraud
QoS adjustment and provisioning
UE driven analytics