RADCOM Network Intelligence for 5G is an automated, dynamic, and multi-functional solution, with smart minimal data collection, and on-demand troubleshooting. Providing operators with a fully cloud-native, container-based approach that acquires data close to the source and uses a stateless architecture that seamlessly integrates within an operators' cloud environment. Delivering next-generation customer and service insights for the first 5G use cases (such as enhanced mobile broadband, fixed wireless access, and edge deployments) as well as more advanced use cases along the operator's 5G journey.
Non-standalone option 3/3a/3x support
RADCOM Network Intelligence already supports NSA option 3/3a/3x and provides operators with end-to-end service visibility into the network performance and customer experience for the hybrid 4G/5G world.
Option 3 routes 5G user plane traffic through the eNodeB
Option 3a is dynamic and allows 5G user plane traffic to switch between the 4G and 5G radios
Option 3x, all 5G user plane travels via the 5G radio, whereas 5G control plane traffic goes via the eNodeB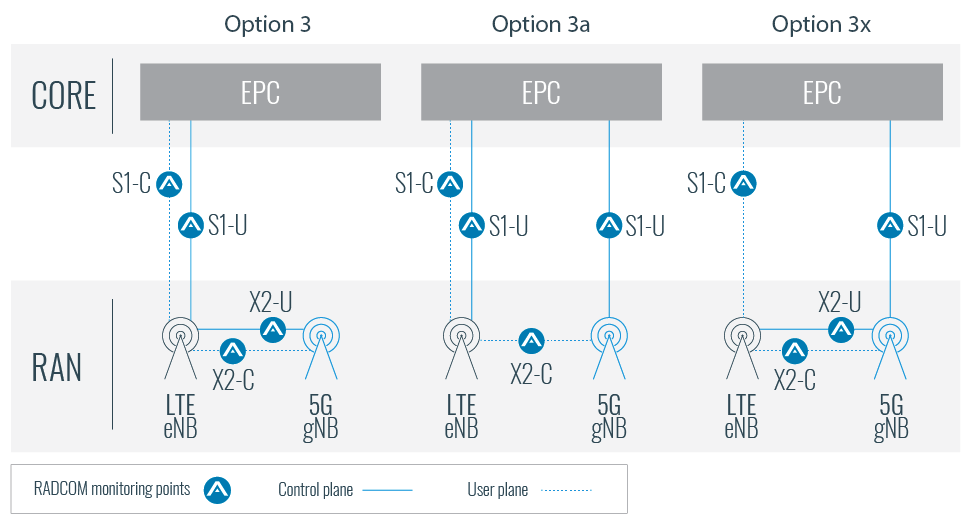 By monitoring all the essential interfaces such as S1 and S11, RADCOM correlates all the 5G user sessions entering the 4G network for end-to-end coverage of option 3/3a/3x.
RADCOM's solution ensures that the current 2G, 3G, and 4G networks are performing, services delivered over the new 5G radio are functioning, and with support for the new SBA, that the 5G network itself is working correctly and fully optimized as operators roll out their 5G services. RADCOM Network Intelligence has the operator covered from the RAN to the network core. Providing a dynamic approach to capturing, processing and analyzing network traffic on scale and on-demand in line with the needs of optimizing and troubleshooting networks in the 5G era.
MAXIMize your 5G services with RADCOM Network Intelligence.